The Upper Mustang trek brings you into the hidden world of the Himalayan kingdom of Mustang. The people in Lo-Manthang and Upper Mustang area are diligently connected to Tibetan culture and language. The region is separated from the outside world and has unchanged a highly preserved Tibetan culture and natural beauty. Upper Mustang is situated in the rain shadow of the Himalayan massif generating a rocky dry land surrounded by hills in all kinds of colors. The Major Points of interest in Lo Manthang are the royal palace and beautiful monasteries like the Thugchen Gompa built in the 15th century. Excursion outside the city you can hire hours for a ride to Chhoser where you can visit a small monastery and a century-old cave-dwelling situated high in the rocks.
Here you will experience a way of life of true mountain people, who for hundreds of years, had very little contact with the rest of the people in Nepal and retained their rich cultural heritage. Until recent times their king was officially recognized by the Government of Nepal. In many ways, a trek into Upper Mustang is similar to trekking in Tibet. The district of Mustang was, until 1950, an isolated kingdom within the boundaries of Nepal. The last king, the Raja of Mustang, still has his home in the ancient capital known as Lo Manthang. The most convenient way to get to Upper Mustang is to fly from Pokhara to Jomsom and start the trek from there. The flight is an adventure in itself flying over the deepest gorge in the world, the Kali Gandaki, which runs between the Dhaulagiri, Nilgiri, and the Annapurna mountain ranges.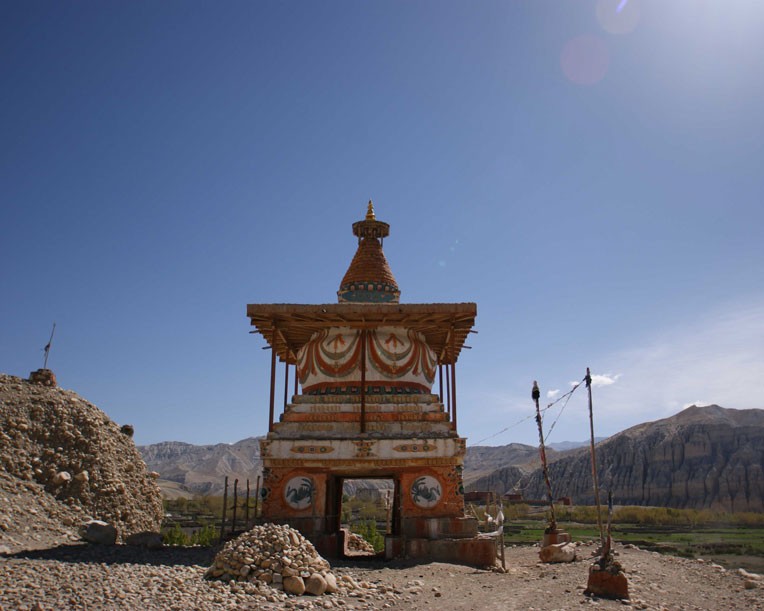 Now the road condition is getting better thus it is also possible to do adventure drive by jeep to reach Mustang. You follow the famous Kali Gandaki River upstream, partly driving in the river bed and deepest land of the world itself making the journey memorable. You enter from Kagbeni to the restricted area of the Upper Mustang. The trek goes northwards and leads to Lo Manthang in 4 to 5 days Trekking or an option we could hire drive by jeep or horse riding to Lo-manthang. You can return partly in a different way via Dhakmar the oldest Tibetan monastery in the world, the Lo Gekar "Ghar" Monastery. "Ghar" Monastery was built in the 8th century by the famous Tibetan magician Guru Rinpoche. It is said that he killed a powerful demon and the blood of the demon has painted the rocks around Dhakmar.
Up to 1992, Upper Mustang was forbidden for foreign visitors to enter the kingdom of Lo-Manthang. Nowadays foreigners are welcome to Upper Mustang but still need a special permit which costs for the first 10 days US$ 500 and needs to be arranged through a trekking agency and each additional day costs US$ 50). Trekking in Upper Mustang is a great option during the monsoon months "June- to August)" as the region is in the rain shadow. However, it would be better to add 1-2 days extra to your itinerary for travel interruptions due to bad weather in the lower valleys.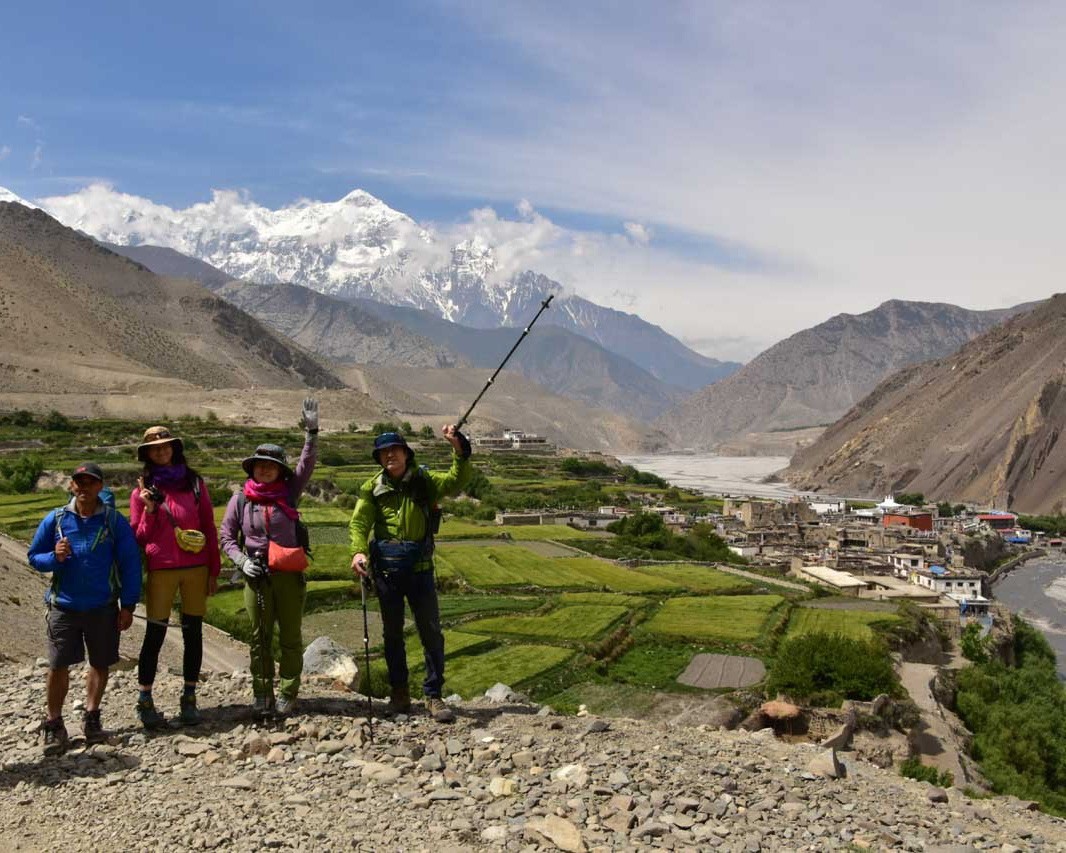 Upper Mustang Trekking is one of the best destinations to trek even during the monsoon season in Nepal. The best advantage of doing this cultural Mustang trek during monsoon time is that the village is full of local people busy with their everyday work. Furthermore, the whole region is in bloom which makes really a fabulous contrast with the colorful hills, red cliffs, and snow-capped mountains in the background. Upper mustang is open in spring, fall, and "Monsoon" season. Having a group of family and friends together, we can customize the trip dates and itinerary based on your time duration and requirements. Mustang trek is once in a lifetime destination to explore the fascinating medieval tour to the kingdom of Lo-manthang, Mustang.
Outline Itinerary
Day 01Arrival in Kathmandu transfer to Hotel.
Day 02Kathmandu to Pokhara by flight in the afternoon.
Day 03Drive from Pokhara to Kagbeni by Jeep 6-7 hrs.
Day 04Kagbeni to Chhuksang Trek 4-5 hrs. "Enter the restricted area"
Day 05Chhuksang to Samar Trek 6-7 hrs.
Day 06Samar to Ghiling trek via cave 6-7 hrs.
Day 07Ghiling to Ghami trek 5-6 hrs.
Day 08Gemi to Tsarang trek 4-5 hrs.
Day 09Tsarang to Lo-Manthang trek 5-6 hrs.
Day 10Excursion in Lo-manthang visit monasteries
Day 11Excursion Chosher horse riding to Cave and Gompa 5-6 hrs.
Day 12Lo-manthang to Jomsom by Jeep 5-6 hrs. "Exit the restricted area"
Day 13Jomsom to Pokhara by flight in the morning and afternoon free time
Day 14Pokhara to Kathmandu by tourist bus. 6-7 hrs.
Day 15Full day sightseeing in Kathmandu
Day 16Transfer to the airport for departure
Detail Itinerary
Cost Details
Cost Includes
Airport/Hotel/Airport drops and picks up
Hotel 4 nights in Kathmandu and 2 nights in Pokhara (Bed and breakfast)
Sightseeing in Kathmandu and Pokhara
3 times meal tea, coffee, and lodging during trek
Special Permit for Upper Mustang Restricted areas.
Other necessary Permits
Kathmandu to Pokhara by flight
Pokhara to Kagbeni by Jeep
Lo-manthang to Jomsom and Pokhara by jeep
Pokhara to Kathmandu by Tourist bus.
Other land transportation by Jeep or bus according to the itinerary.
Food, accommodation, salary, insurance for guide, Sherpa and Porters.
Luggage transportation manages by Jeep or porter as available.
First Aid Medical Kit box.
Office Service charge.
All Government Tax.
Cost Excludes
Lunch and dinner in Kathmandu and Pokhara
Your travel insurance (compulsory)
International airfare
Nepal entry visa fee
Personal expenses such as alcoholic drinks, cold drinks, mineral water, etc.
Personal trekking equipment
Tips for trekking staff and driver etc.
Entry fee for monasteries, museums, Historical places, and caves
Unexpected expenses like rescue and health emergency evacuation, etc.
flight delayed or canceled due to the bad weather
Hire a horse during the trek in Mustang
All expenses which are not mentioned in the price include section.
Dates & Prices
The departure date could be fixed at your request. The itinerary also can be changed according to the duration of your holiday.
Send an Enquiry For
Upper Mustang 16 Days Trek in Nepal