Pikey Peak trek is a chance to explore lesser-known villages and the wilder places of the lower Everest region. Pikey Peak or Pikey Danda is most popular for its sunrise and sunset views. From here you get a magnificent view of the peaks north of the Kathmandu valley and the Himalayan range which includes Mt. Everest, Makalu, Kanchenjungha, Annapurna, Gauri Shankar, Lhotse, Lhotseshar, Nuptse, Ama Dablam, Numbur, Khatang, Karyalung, Shishapangma, Mera peak, and Thamserku. Pikey Peak has become one of the popular trekking trails in the Everest region, probably because Pikey Peak is one of the lowest places from where you get a clear view of Mt. Everest, 8848m.

After reaching Pikey Peak the trail leads us to the large Sherpa village of Junbesi where there is the Thubten Choling Monastery, which has been a first contact point for many Tibetan refugees and remains home to a large population of Tibetan Buddhists.
Pikey Dudhkunda trek can only be done by camping. The trail climbs high in the mountains to a place called DudhKunda, which literally means "milk lake". The DudhKunda is a holy lake with white waters, surrounded by the mountains of the Southern Solukhumbu and directly under the Numbur Himal Range, locally known as Shorong Yul Lha, protector of the Solu Khumbu region. It is a famous pilgrimage site for both Buddhists and Hindus and for adventurous trekkers. During full-moon nights in August, pilgrims and jhankris (Shaman Priests) hold a week-long celebration here. At other times you are unlikely to meet anyone on this rarely traveled trail.
Trekkers using the lower Everest Trail may also pass through this region. It is the perfect place for nature lovers to visit. This area has many diverse ethnic groups living here such as Sherpas, Khaling Rais, Tamangs, Magars, and Gurungs, and this gives a great insight into their lifestyle. You will get to see the unique culture of the real Sherpa people, who represent a large percentage of porters and guides for treks and expeditions. (Some people think Sherpa means porter… but that is incorrect. Sherpa is an ethnic group that hails from the Everest region and has become famous for its bravery in the mountains. The hospitality of the locals is one of the most heartwarming experiences one can come across in this area. It's common to stop to chat or they may entice you with something delicious to eat.
Apart from culture, Pikey Peak Dudhkunda trekking is popular for the wonderful Himalayan scenery and the flowering Rhododendron trees, magnolias, and wild orchids. Authentic Sherpa villages and Sherpas culture, Buddhist monasteries, and beautiful lakes are the main attractions of Pikey Dudhkunda trek. On the trail to DudhKunda, you'll pass through Phaplu, Taksindu, and Beni, or Sunbesi Beni where you'll see some breathtaking panoramic mountain views.
Highlights
Pikey Peak gives you of the best viewpoints from the lower Everest region.
Expansive stunning views from Gauri Shankar to Mt. Kanchenjunga.
DudhKunda Lake a high alpine lake and pilgrimage site.
Combination of wilderness camping and nights in local lodges.
Experience true Sherpa hospitality and culture in authentic villages.
Learn about Himalayan Buddhism at the Thubten Choling and Taksindu monasteries.
Outline Itinerary
Day 01Arrival in Kathmandu transfer to Hotel.
Day 02Free time in Kathmandu prepare for trek.
Day 03Kathmandu to Dhap, 7-8 hr.s
Day 04Dhap to Tholo Gomba or Bulbule, 7-8 hrs.
Day 05Thulo Gomba to Pikey Base Camp, 7-8 hrs.
Day 06Pikey Base Camp go to Pikey peak and trek to Jase Bhanjyang, 7-8 hrs.
Day 07Jase Bhangjyang to Junbesi, 6-7 hrs.
Day 08Junbesi to Shingee Phuk, 6-7 hrs.
Day 09Singee Phuk to Sarsar Beni, 6-7 hrs.
Day 10Sarsar Beni Hike to Dudhkunda and back to Beni, 5-6 hrs.
Day 11Beni to Rhuksindo, 6.-7 hrs
Day 12Rhuksindo to Taksindu, 6-7 hrs.
Day 13Visit Taksindu Monastery and drive to Phaplu, 2hrs.
Day 14Phaplu to Kathmandu by flight
Day 15Sightseeing in Kathmandu
Day 16Departure
Detail Itinerary
Cost Details
Cost Includes
Airport/Hotel/Airport picks up and drops.
Accommodations in Kathmandu.
Necessary Permit & National Park fees.
Kathmandu to Patale by charter Jeep.
Flight ticket from Phaplu to Kathmandu.
Two men tent, Kitchen, Dining and Toilet tent during Camping Trek.
Cook and Kitchen helper during camping trek.
3 times meals breakfast, Lunch, dinner and 3 times tea or coffee during thelodge trek.
Guesthouse / lodge accommodation during the lodge trek.
The required trekking staff.
Food, accommodation, salary, insurance for the trekking staff.
Cost Excludes
Lunch and dinner in Kathmandu.
Your travel insurance (compulsory).
International Airfare.
Nepal entry visa fee.
Entry permit to visit historical places in Kathmandu.
Personal expenses such as alcoholic drinks, cold drinks and mineral water.
Personal trekking equipments.
Tips for trekking staffs and driver etc.
Helicopter rescue in case of emergency and medical expenses.
Any others expenses which are not mentioned on price Includes section.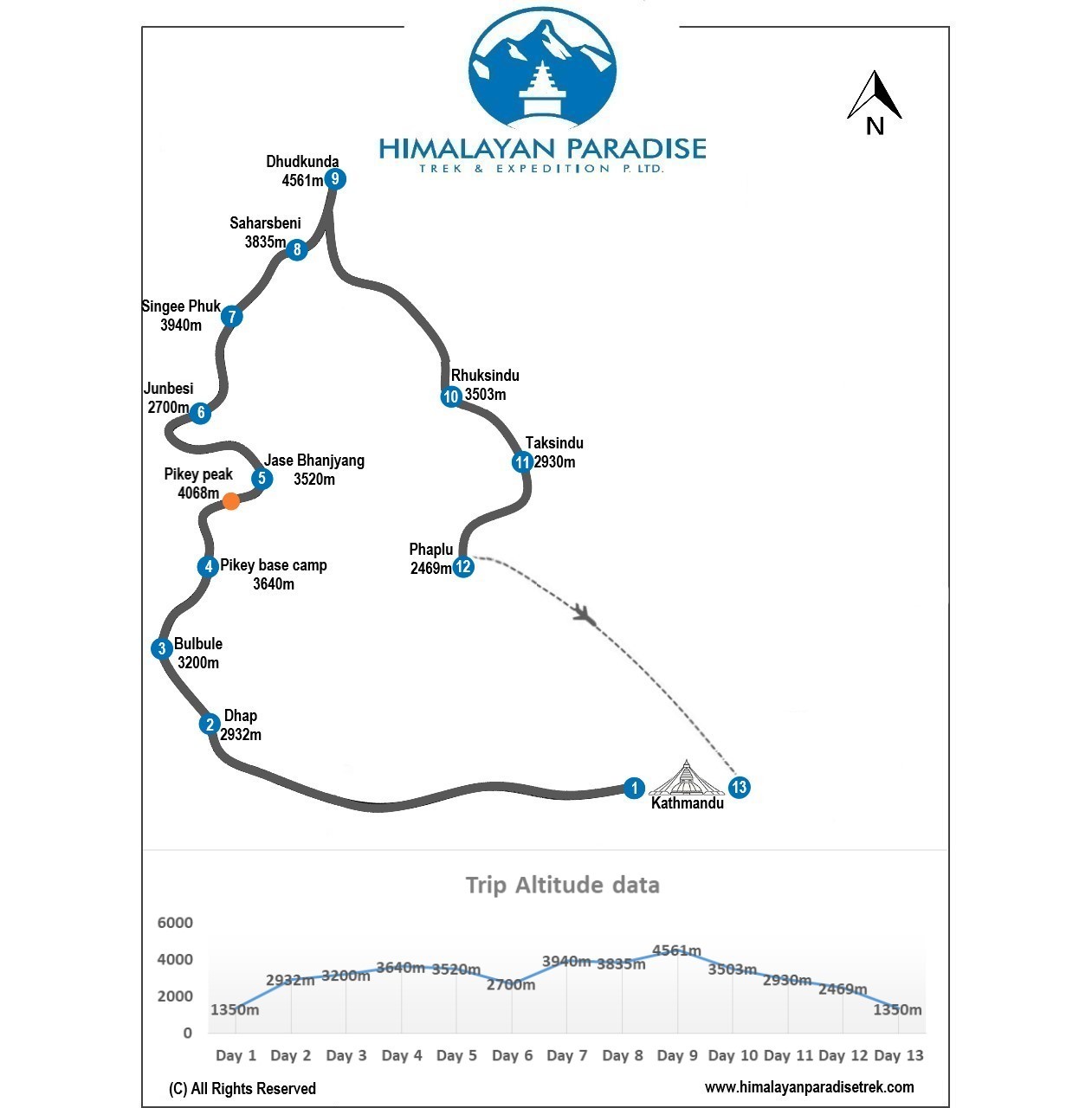 Useful info
Best Season
This area receives heavy rainfall during the monsoon so we do not recommend the monsoon ( period for this trek. The best times to trek are the spring season (mid-February to May) or in the autumn (October to med-December). During winter it is extremely cold, but the skies are generally blue and the views crystal clear. The Rhododendrons will flower in spring, generally in March and April and this is a consideration for your travel times as the forests are truly stunning in flower.
Send an Enquiry For
Pikey peak and Dudhkunda Trek