Ghorepani Poon Hill Trek is one of the most popular easy trekking trails in Nepal. Even though the trail does not include any challenging sections, the landscapes and stunning views make it stand out among other treks. Poon Hill trek will take you far from the hustling and bustling cities, and present you with some of the gorgeous sunrise and natural beauty you will get to witness in your life. The trail will include several ascends & descends and go through beautiful forests of rhododendrons & pines, small settlements, and streams. You will get to witness Himalayan Paradise views of snow-capped mountains like Mt. Annapurna (8091 m), Mt. Machhapuchhre (6993 m), and Mt. Dhaulagiri (8167 m), and many more. Moreover, the people residing in this region are very kind and welcoming. You will get to experience their lifestyle, culture, and tradition. This trek will take you to Ghorepani Poon Hill where you will get to see one of the best sunrises of your life. Ghorepani Poon Hill Trek is a perfect trek for someone looking to experience the best views of this Himalayan country without going far into the Himalayas.
Accommodations on Ghorepani Poon Hill Trek:
You will be staying in 2 or 3-star hotels in Kathmandu and Pokhara. During the Ghorepani Poon Hill Trek, you will stay in the guest house or lodge. The room will be small with little furniture, a bed & a blanket. All the accommodations are on a twin-sharing basis. On special request, single rooms can be arranged in the cities. However, single rooms might not be available all the time during the peak season so you have to confirm your trip early enough.
Please understand that the services in the guesthouse will be very basic but they are semi-comfortable and also all the guesthouses might not come with attached washrooms.
Meals & Drinking Water:
In Ghorepani Poon Hill Trek, you will enjoy authentic Nepalese food with a few other cuisines like Tibetan, and Indian. Meals will be served as per the menu of the guesthouse/lodge. Besides that you can find bars, bread, cookies, butter tea, and extra on the trail but, remember as the elevation get higher, the cost also gets high. In Kathmandu and Pokhara you will only get breakfast. There will also be a welcome and farewell dinner for you according to the category service you booked.
Drinking water can be easily found everywhere. You can get hot water from the guesthouse/lodge and fill in your bottle every time it gets empty. So, do carry a reusable water bottle with you. We urge you to not buy mineral water bottles on the way as it will help in preserving the region.
Ghorepani Poon Hill Trek Difficulty & Physical Fitness:
Autumn ( September to November) and Spring (March to May) are the best seasons to go on the Ghorepani Poon Hill Trek. The weather will be warm and clear with spectacular views.
If you are a botanist the summer season will be perfect for you to trek in this region to explore the rare flora. Where monsoon (June to mid-September) makes everything unclear and slippery.
Ghorepani Poon Hill Trek Permit:
Ghorepani Poon Hill Trek comes into the Annapurna Conservation Area which, requires the Annapurna Conservation Area Project (ACAP) entry permit. Besides that, you also need to get a TIMS card (TIMS cards are not needed if you have an immigration permit).
Following is the list of permits for the Ghorepani Poon Hill Trek:
Highlights
Ghorepani Poon Hill Trek Himalayan Paradise view
Monuments sightseeing in Kathmandu & Pokhara.
Panoramic views of Mt. Dhaulagiri (8,167 m), Annapurna Ranges (8,091 m), and Machhapuchhre (6,993 m).
Trek through lovely forests of rhododendrons and pines.
Witness a gorgeous sunrise view from Poon Hill.
See Picturesque villages.
Get to experience ancient tradition and culture.
Outline Itinerary
Day 01Arrival to Kathmandu Transfer to Hotel.
Day 02Sightseeing in Kathmandu Overnight at Hotel.
Day 03Kathmandu to Pokhara by tourist bus, 6-7 hrs.
Day 04Pokhara to Hill drive by jeep 2 hrs. and Trek to Ulleri, 2 hrs.
Day 05Ulleri to Ghorepani, 5-6 hrs.
Day 06Go to Poon Hill early in the morning and layover day, 1.30 hrs.
Day 07Ghorepani to Tadapani, 6-7 hrs.
Day 08Tadapani to Ghandruk, 3-4 hrs.
Day 09Ghandruk to Pokhara by jeep 2 hours. Relaxing day visit around:
Day 10Sightseeing in the morning and fly to Kathmandu in the afternoon.
Day 11Sightseeing in Kathmandu
Day 12Final Departure
Detail Itinerary
Cost Details
Cost Includes
Annapurna conservation area permit.
TIMS permit.
4 nights hotel in Kathmandu.
2 nights hotel in Pokhara.
All meals breakfast, Lunch, dinner and 3 times tea or coffee during the trek.
Guesthouse/lodge accommodation during the trek.
Kathmandu to Pokhara by tourist bus.
Pokhara to Kathmandu by flight.
Necessary transportation according to itinerary.
Guide and Porter.
Food, accommodation and salary for the guide and porter.
Insurance for guide and porter.
Government tax.
Cost Excludes
Lunch and dinner in Kathmandu and Pokhara.
Your travel insurance (compulsory).
International Airfare.
Nepal entry visa fee.
Entry permit to visit historical places in Kathmandu.
Personal expenses such as alcoholic drinks, cold drinks and mineral water.
Personal trekking equipments.
Tips for trekking staffs and driver etc.
Helicopter rescue in case of emergency and medical expenses.
Any others expenses which are not mentioned on Price Includes section.
Last week of November 2018 we were with Tendi's "himalayanparadisetreks" in the mountain paradise of Poon Hill. The famous view at best weather - both at sunset and at sunrise ...

Read More

Für die ersten beiden Oktoberwochen in 2019 hatten wir uns mit acht Personen eine Trekkingtour ins Annapurna Gebiet vorgenommen. Mit der nepalesischen "Himalayan Paradise Trek & Expedition" fanden wir den ...

Read More

Dear Tendi, I hope everything OK for you and your family. I got very nice feedback from ...

Read More

In October 2019 we had a great trip to Annapurna with Tendi Sherpa. It was one of my best trips ever. I always felt safe and well protected by Tendi ...

Read More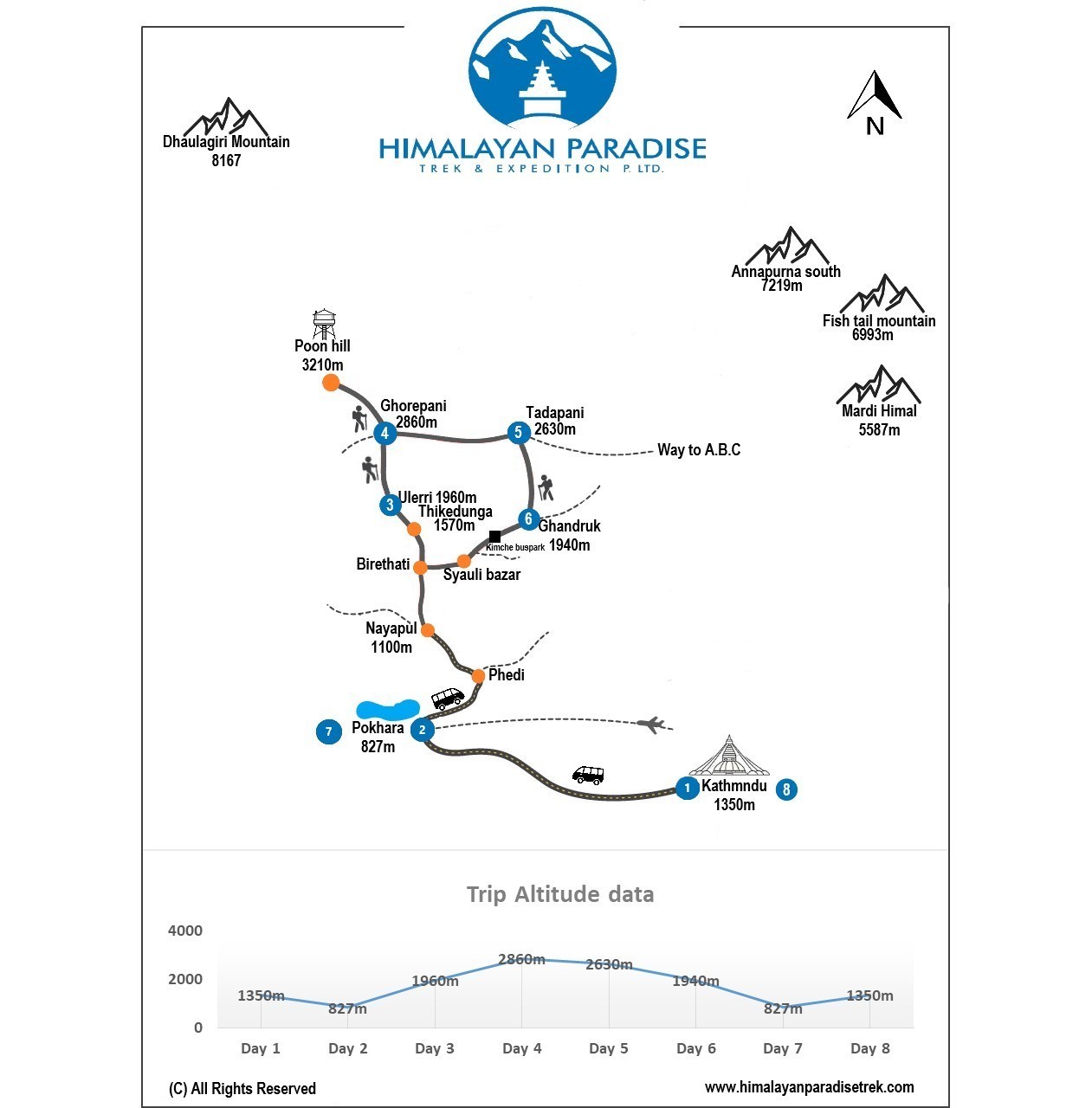 Send an Enquiry For
Ghorepani Poon Hill Trek