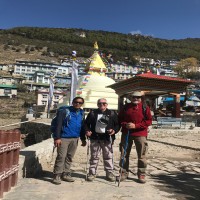 Patrik Besson
France
May 05, 2019
I'm very satisfied on trek Gokyo ri with guide Tendi Sherpa. With him, I could go on the top!!! Very important condition, Tendi took us in charge from arrival at Kathmandu airport, and escort discreetly us during all our stay in Nepal, and at the end, brings us to Kathmandu airport to go back France. It's a very comfortable situation.During all the trek, Tendi was very careful about everythings, and always anticipate all situations and always found good proposition.
Tendi is very serious, punctual and very reassuring in his job. Always great availability, sympatical and gave us many informations about Nepal, Sherpa people and sightseeing during trek.
Honestly, I recommend this competend guide "Tendi Sherpa" to friend and people who wants to visit Nepal.
Sincerely, Patrik Besson