Team Member Details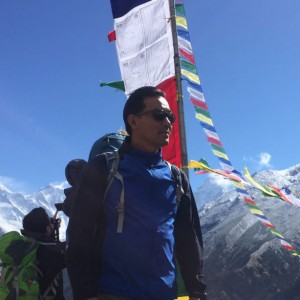 Chhiri Tendi Sherpa
Managing Director
My name is Chhiri Tendi Sherpa, and I was born in 1976 in Solukhumbu, Nepal. I have been working with trekking and tourism sector since 1995.
In my childhood, I was fascinated by the many foreigners passing through and nearby my village on route to the Everest region. This sparked my interest in different cultures and combined with my love of nature to inspire me to work in tourism. My first trek was when I was eighteen years old, in 1995. I went as a porter on a trek to the Manaslu region, which included two passes, the Larkya pass at 5000 meters and the Thorung pass at 5416 meters. At that time I could not speak English, and I was impressed by the other guides who could. As a result, I started to learn the English language in 1997, and now I am able to speak English as well as Japanese and German.
I worked as a porter for about 3 years before being promoted to assistant guide. After 3 years working as an assistant, I participated in an official guide training program through the Nepal government in 2001, after which I began extending my activities to different regions of the country. In addition, I have also served as a guide on treks from Darjeeling and Sikkim in India, and in Tibet. I have now trekked with many people from different countries and have formed lasting relationships from these treks. An important event in my life was my first visit to Europe in 2001. Since then, I have visited Europe several times, including trips to the Alps in Germany, Italy, France, and Switzerland with friends, offering me great opportunities to learn about European cultures and languages.
Since the beginning of my career, I have become very familiar with many trekking destinations, including the Everest, Annapurna, Langtang, Mustang, Manaslu Helambu Upper Dolpa and regions. My experience includes Mera Peak, Island Peak, and Cholu West. I have led trekking groups across many high passes in Nepal, including Larkye Pass, Chola Pass, Renjula Pass, Thorong Pass, and more. If you are a trekker hoping to climb high passes and peaks, I can accommodate your needs with this challenging and rewarding adventure. I am knowledgeable about cultural and environmental issues in the areas where I lead treks and can offer you a challenging experience and memories that will last a lifetime. In 2012 I established my own trekking company: Himalayan Paradise Trek & Expedition (P) Ltd. Please contact me at the email address listed below if you have questions or would like to discuss a possible trek and itinerary. I will be happy to give you more information.
You are always well come to Nepal. Come as guest go as a friend.
Namaste!